Recent News
March 2012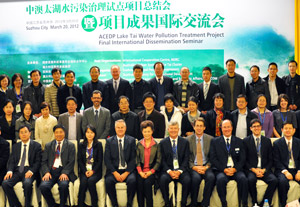 The Final International Dissemination Seminar for the Lake Tai Water Pollution Treatment Project was held in Suzhou on March 20, 2012. The workshop brought together over 170 policy decision-makers and specialists from across China to discuss the results of the three year collaboration under the Australia China Environment Development Partnership. A number of specialists from the AUS Lake Tai Cluster, attended including representatives from Earth Systems, Hunter Water Corporation, eWater and Department of Primary Industries (VIC). Before the event, a memorandum of understanding was signed by the National Reform and Development Commission's International Cooperation Centre, Suzhou Development and Reform Commission and the AUS Lake Tai Cluster to establish the China-Australia Water Resource and Environment Cooperation and Research Centre, and continue this partnership over the next 5 years.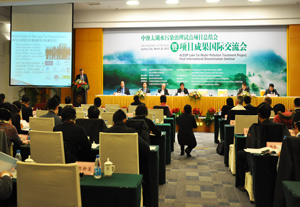 Lake Tai is the third largest lake in China but is the most important in terms of population density and contribution of the basin to national GDP. Water quality and algal blooms in Lake Tai has been recognised as a serious national issue for the P.R. China, particularly following the severe Cyanobacterial algae outbreak in 2007. The State Council has approved a comprehensive restoration program for the Basin.
In 2009 the Australian Agency for International Development (AusAID) provided funding for the Lake Tai Water Pollution Treatment Project under the Australia China Environment Development Partnership Initiative (ACEDP). The objective of the Project is to strengthen management and policy approaches in the Lake Tai basin by increasing awareness of Integrated River Basin Management (IRBM) and science-based management/planning approaches.
More information about the project can be found at: http://www.acedp-partnership.org/en/news/745.aspx
February 2012
Earth Systems is now a registered Environmental Expert for the Government of Zanzibar. We are now providing environmental and social consultancy services in Zanzibar.